Car Maintenance Checklist
When your vehicle is in good working order, it's easy to let those oil changes and tire rotations slide. But, keeping up on routine car maintenance can make a huge difference in the performance and longevity of your vehicle. What should you include on your car maintenance checklist (check here for cold weather prep tips)? Gurnee Chrysler Jeep Dodge RAM is here to help you keep track of everything from exhaust system checks to brake lining replacement. Get out your calendar and create your vehicle maintenance checklist with Gurnee Chrysler Jeep Dodge RAM, serving the Libertyville and Crystal Lake areas.
Twice Per Year
Just a little car maintenance can go a long way. While there's no need to check every component of your vehicle at the six-month mark, it's a good idea to keep an eye on elements like your motor oil and tire health. These two components can affect everything from fuel economy to car safety, so it's wise to be proactive. Twice per year, stop by the service center for quick services like:
Oil change
Filter change
Tire rotation
Once Per Year
After a year of commuting and road trips, your car could probably use a little TLC! Between debris accumulation and everyday wear and tear, a trip to the service department can hit the reset button on your vehicle's performance. Plus, early intervention can prevent small problems from turning into major calamities. Here are just a few of the recommended services for your vehicle maintenance checklist:
Inspect and replace air filter
Inspect and replace brake linings
Inspect exhaust system
Inspect front suspension, tie rod ends, and boot seals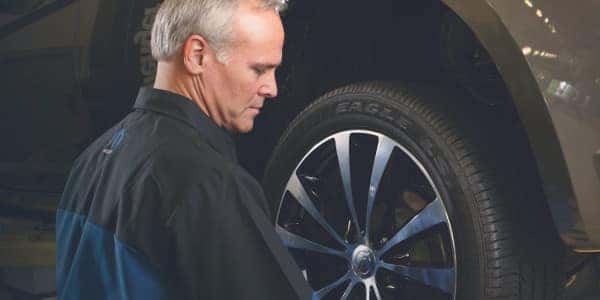 Other Considerations
This brief car maintenance checklist will lead you in the right direction, but it's important to pay attention to your vehicle on every drive. If you notice issues like poor tire tread or squeaking brakes, make some room in your schedule for a trip to the service department. Additionally, vehicles like tough all-wheel drive SUVs and powerful pickup trucks may go through more strenuous driving conditions than your average commuter sedan. Don't be afraid to stop by for more frequent inspections!
Schedule Your Service Today!
Take control of your car maintenance needs and schedule a service at Gurnee Chrysler Jeep Dodge RAM today!