Jeep Grand Cherokee Reviews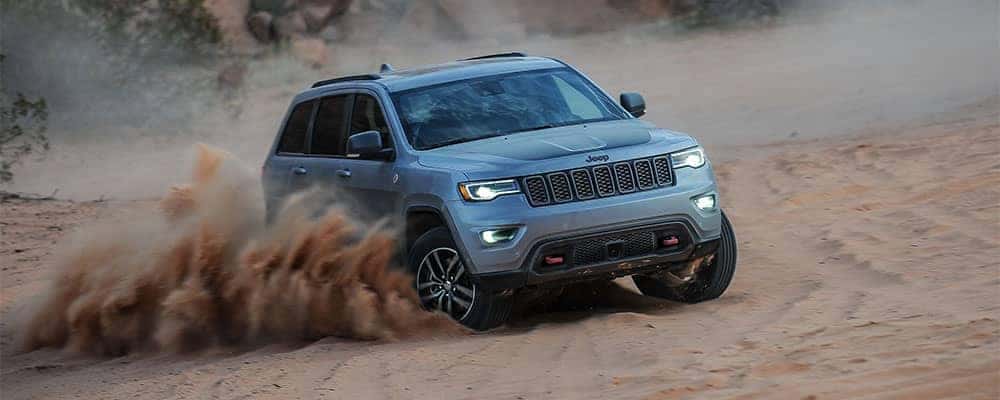 The Jeep Grand Cherokee lineup is always in demand at Gurnee CJDR, and the latest model has the entire automotive industry abuzz. Not only do customers rave about the rugged performance of this perennial favorite, but leading experts have sung the praises of this SUV in countless Jeep Grand Cherokee reviews. From the high-performance Trackhawk to the luxurious Summit, the Jeep Grand Cherokee trim levels offer amazing performance for any driver. Let's dive into the details below, and don't forget to drop by the dealership for your test drive!
Grand Cherokee Highlights
Across the board, reviewers were impressed by the mighty performance and wonderful versatility of the Jeep Grand Cherokee. However, there was one notable superstar of the Jeep Grand Cherokee trim levels: the brand-new Trackhawk.
Motor Trend raved about the lightning-fast speeds of the Trackhawk, which can accelerate from 0 to 60 mph in just 3.3 seconds. The Car Connection dubbed it the "Hellcat Jeep," drawing 707 hp from its supercharged V8 engine, while also noting the great performance from the high-performance Grand Cherokee SRT. Finally, Cars.com added that the Trackhawk features in-cabin technology to enhance the driving experience like a center-mounted tachometer and intuitive instrument panel.
Quotes from Experts
Sometimes the best way to learn about the Jeep Grand Cherokee specs is by hearing the reviews straight from the source. Check out some thoughts from the leading experts in the industry:
U.S. News & World Report: "Whether you're looking for a high-performance monster or a beastly (yet comfortable) off-roader, the 2018 Jeep Grand Cherokee has something for you."
Edmunds: "Depending on how you equip it, it can be well-rounded and luxurious, an off-road specialist or a hot-rod SUV. It's one of our favorites in the midsize SUV class."
Car and Driver: "Under the skin it's a true Jeep: a stout, off-road capable machine. That doesn't mean it's a chore to drive on-road; the big Jeep's an easygoing, high-utility companion that can be had as an unpretentious workhorse, a leather-lined luxo-ute, or something in between."
Find Out More About the Jeep Grand Cherokee
Want to know more about the competition? See how the Jeep Grand Cherokee stacks up against the Toyota Highlander with Gurnee CJDR, serving Crystal Lake and Libertyville.